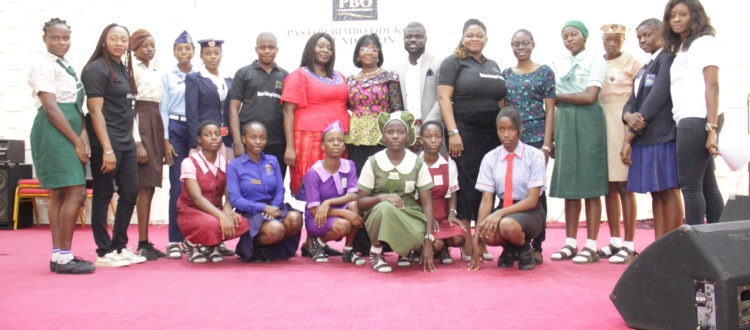 BIMBO ODUKOYA FOUNDATION EMPOWERS SECONDARY SCHOOL GIRLS IN LAGOS
According to Kathy Calvin, United Nations Foundation President & CEO "Girls are one of the most powerful forces for change in the world: When their rights are recognized, their needs are met, and their voices are heard, they drive positive change in their families, their communities, and the world."
It was therefore the need to empower the girl child and make them understand that they can be more which is in line with 2018 international day of the girl child themed, "With Her: A Skilled GirlForce." that Bimbo Odukoya Foundation, PBOF hosted 400 girls from 13 secondary schools in Lagos.
The Girls Empowered Conference 2018 was focused on empowering girls through Science, Technology, Engineering and Mathematics." The focus of this year's empowered programme is to educate the girl child on making career choice in STEM, leveraging opportunities for technology, social media utilization and internet security.
Speaking to the girls at the conference, Ms Olaide Agboola, Software Developer, Andela Nigeria exposed the girls to various STEM careers, she made the girls understand that STEM is not gender biased and that they can be more. Speaking on beyond the classroom – leveraging opportunities for technology, Mr. Ade Olowojoba, Consultant Code Lagos, exposed the girls to technological opportunities such as programming, software development that they can learn beyond the classroom
Also, speaking on social media utilization and internet security, Mrs. Charity Babatunde, founder Rave Et al, made the girls to understand the positive and negative sides of social media. She admonished the girls to explore the positive side of social media, she also told them to choose role models that will impact them positively. She made reference to 17-year-old Makoko girl, Sharon Okpoe who built a website to help fishermen in Makoko sell fish online and 26-year-old Nigerian British, Silas Adekunle, who built the world's first gaming robot, and has just become the highest paid in the field of Robotic engineering.
Prizes were given to the best 3 who participated in an essay competition on gender stereotyping, the prizes were presented by Osasu Paul-Azino (Programme Director) and Mrs. Lara Adesanya (Deputy Chairman, PBOF Board of Trustees).
Addressing the students during the prize giving, Ese Akpovona, (Project Officer) said the aim of the conference is to cause a mind shift in the girls so they will look beyond gender stereotype and believe they can make exploits in STEM.
Girls Empowered 2018 was sponsored by TFOLC, MTN Foundation, UAC Foods, No Left Overs, Dugo Limited and Hon. Dauda Kako Are.